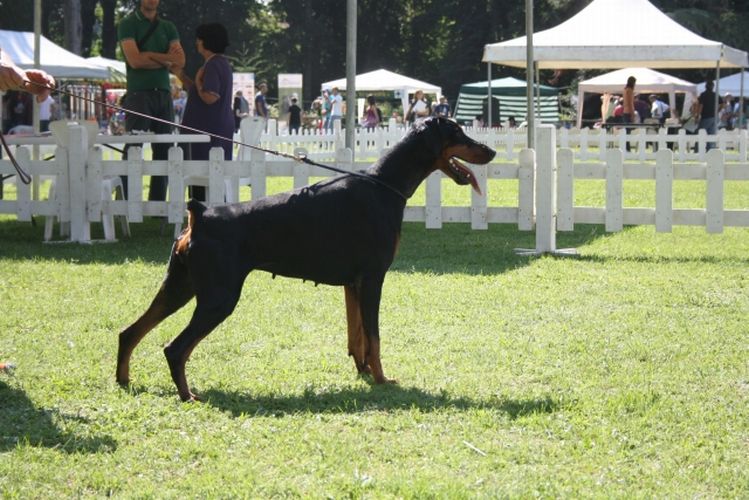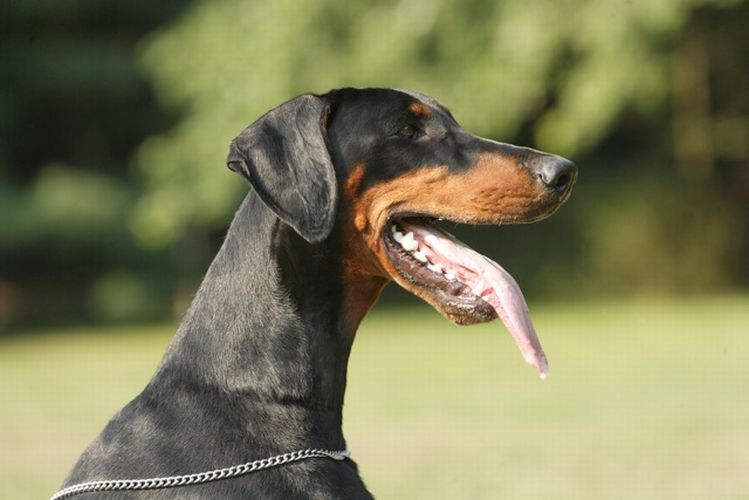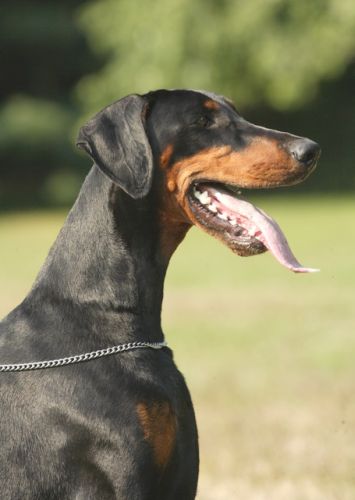 NASTASIA DEL CESENATE

MOTHER IS CARRIE OF BLACKMAGIC LAND

HD A
BH
1° MP SPERANZA A.I.A.D 2009 MONTELUCO DI SPOLETO
1° MP PUPPY CLASS WINNER EUROPEAN DOBERMANN TROPHY WINNER 2009 GRAZ
1° ECC RCAC MEMORIAL P.CALIANDRO 2011
1° ECC CAC-RCACIB INTERNAZIONALE ORVIETO 2011
1° ECC CAC NAZIONALE CINGOLI 2011
ztp 1a ecc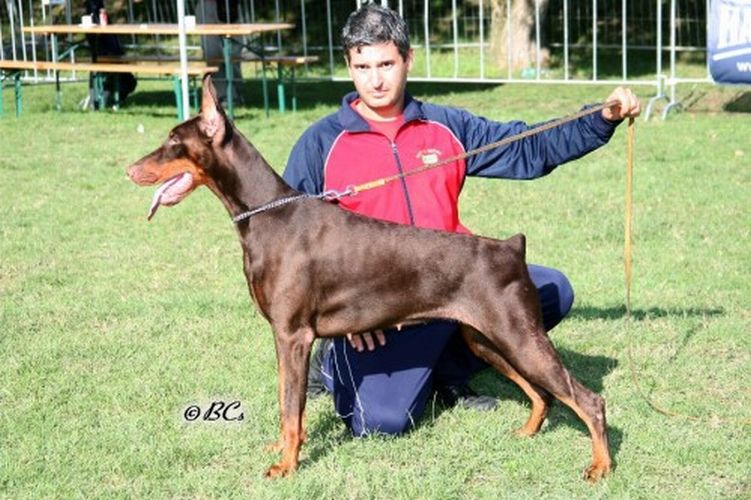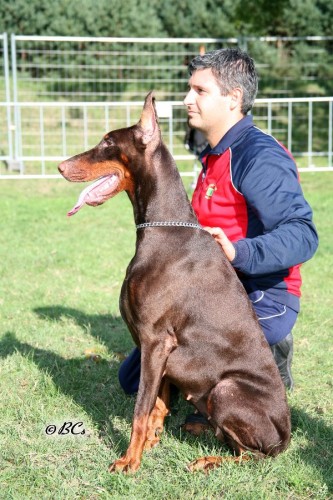 Good as gold's Altett'sa

MOTHER IS KATIA DAKER

SVENSKA DV JUGEND SIEGERIN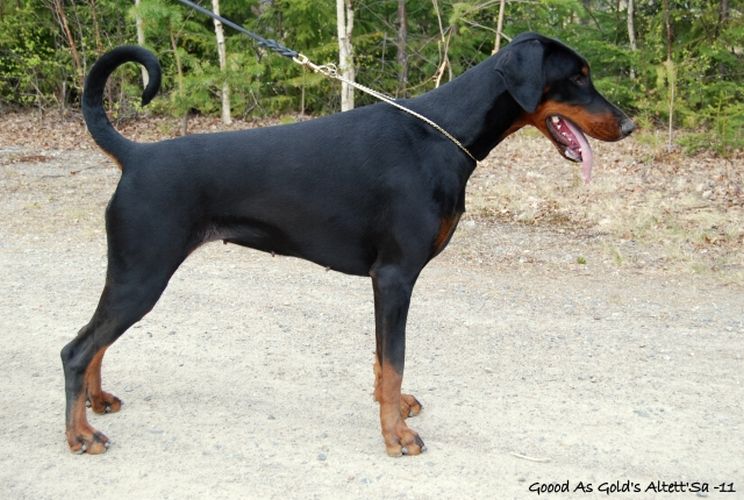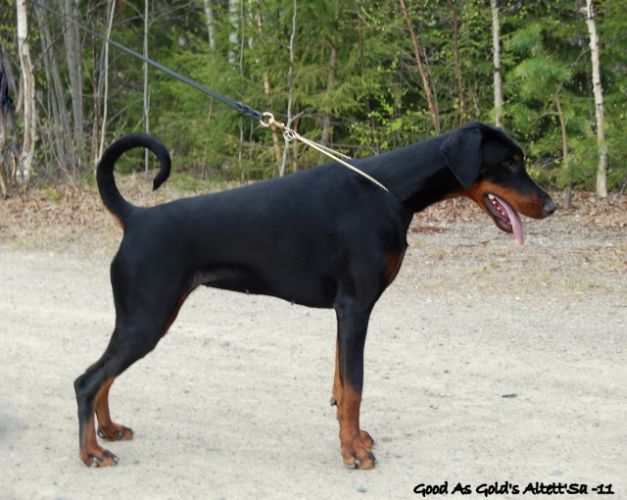 HONEY DEI DUE INTENTI

MOTHER IS HOPHELIA DEI DUE INTENTI

born on 05.12.2007

HD-B, ZTP V 1B
1°ECC classe giovani Internazionale di Messina 26 Ottobre 2008
1°ECC classe intermedia CAC Campionato AIAD 2009(Pezzano)
1°ECC classe intermedia CAC Nazionale Siracusa 13 Settembre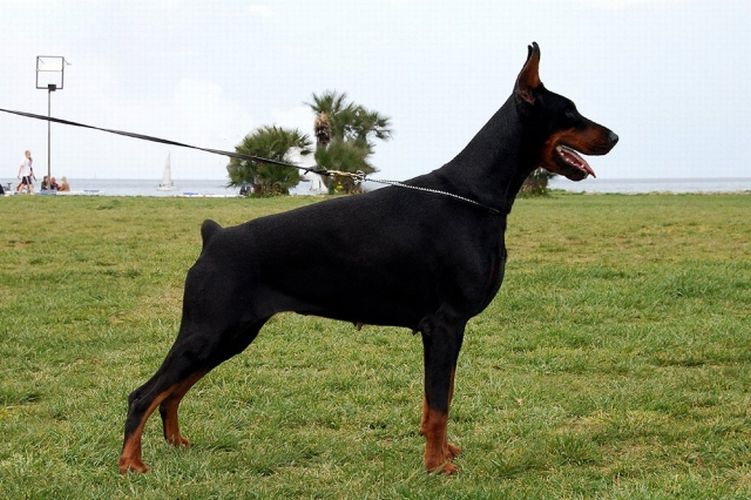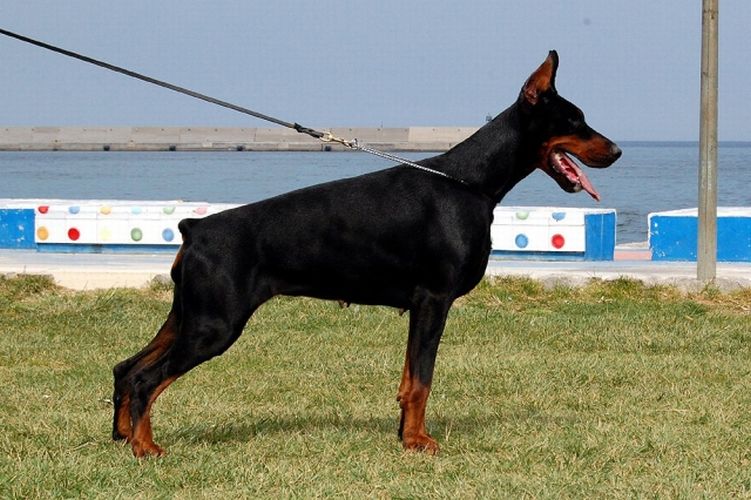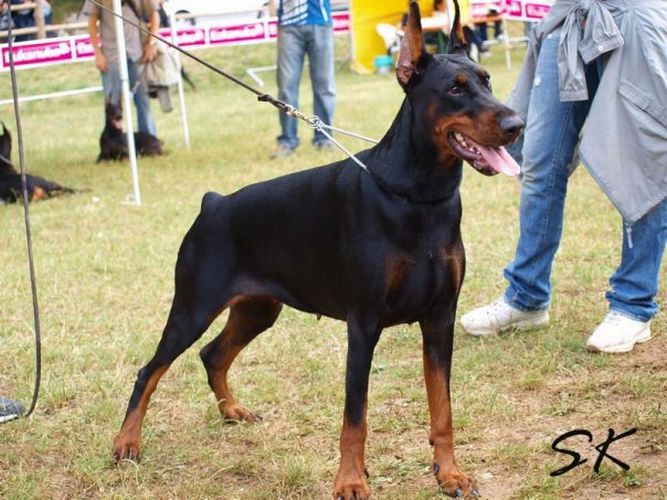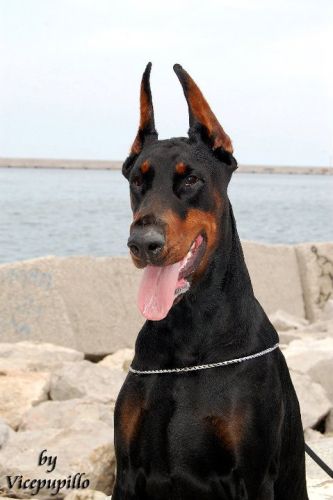 PARIS KING OF DARKNESS

MOTHER IS GEM'GIVVEEON ROCCA

born on 02.10. 2009

Hungary champion
HD 1
DCM mentes
PHPV/PPM/CEA/RD/PRA/PLL/CATARACTA free
free from every eyes' diseases
BH
ZTP V 1A, BEST ZTP (Rudi Killmaier)
28.03.2010. Kanijza CAC Baby class VP1 (Zoltán Vatai SRB)
31.07.2010. EDTW 2010 Youth class VG ( Nadja Timmermann, Thomas
Becht)
21.08.2010. Bratislava Duodanube CACIB youth class V2 ( Tibor Havelka)
21.08.2010. Bratislava Duodanube CACIB youth class V2 ( Helmut
Redtenbacher)
16.01.2011. Ljubljana CACIB V1, CAC ( Guido Vandoni (I)
23.01.2011. Trencin CACIB youth classV2 (Priehoda Marian SK
05.03.2011. Zagrab CACIB intermedier class V1, CAC ( Srecko Kukic (Hr)
06.03.2011. Zagrab CACIB intermedier class V1, CAC (Samanta Kosniac
Zuhar (Hr)
15.05.2011. Bratislava CACIB Intermedier class V2, R.CAC ( Zeljka Fon Zidar
Slo)
22.05.2011. Varazdin CACIB Working class V1, CAC, R.CACIB ( Mirjana
Krstic HR)
24.07.2011. Velka Ida CACIB V1, CAC (Josef Klima)

2009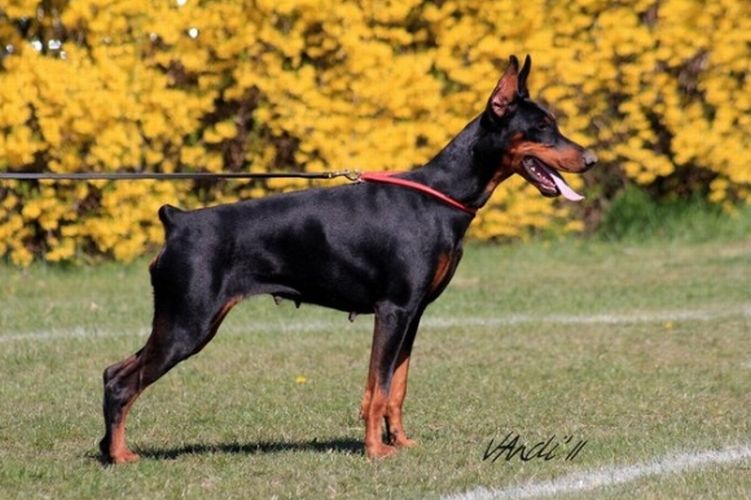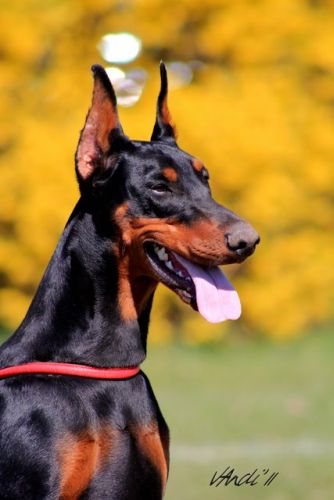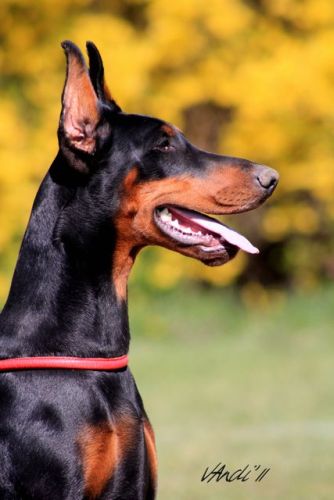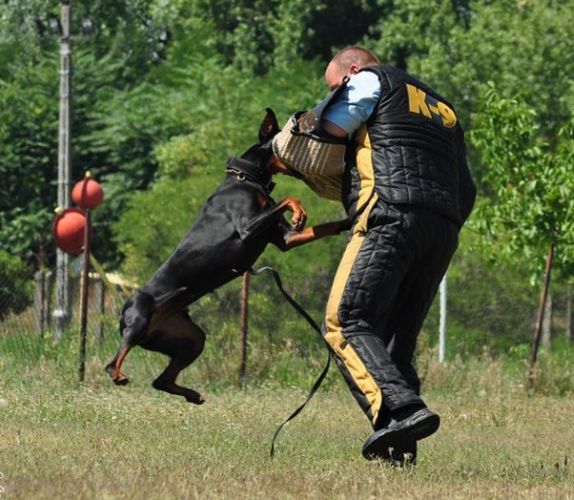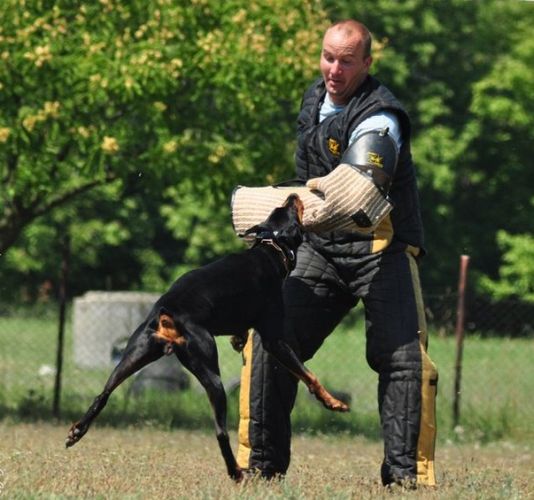 Angel My Love s Mysa Hersones

CHERESHNYA SLADKAYA MOYA S MYSA HERSONES

born on 02.04.2009.

Young Champion of Ukraine, Champion of Ukraine.
Best Female Puppy black at National Ukrainian Dobermann Championship, Kiev,
judge: Revaz Homasuridze (Russia), 24.10.2009.
1ex, JÑÀÑ, BEST JUNIOR at Special Dobermann Show in Sevastopol Ukraine,
judge:Maciej KOZBER (PL), 04.05.2010.
1ex, JÑÀÑ, BEST JUNIOR, BOB at CAC show, Sevastopol, "Crimean Plays
2010", Ukraine, judge: Stefan POPOV (BG), 04.05.2010.
1ex, JÑÀÑ, BEST JUNIOR, BIS-1 at CAC show, Sevastopol, Ukraine,
09.05.2010.
3ex., class Junior, championship, Kiev, Ukraine, judge: G. Ehrenreich,
05.06.2010
2ex., RÑÀÑ at specialized ÑÀÑ exhibitions, Kiev, 31.07.2010:
1ex., ÑÀÑ, Best Female at ÑÀÑ exhibitions, Herson, judge: D. Kozarez,
22.08.2010.
2ex., RÑÀÑ at CACIB show, Simferopol', Judge: Y.Gergel', 29.08.2010.
4vg. - Prize-winner IDC 2010, Junior class, Judge: Norbert Daube, (50 present
out of 58), Slovakia, 04.09.2010.
V1, CAC,CACIB, Best female - CACIB show, Nikolaev, Ukraine, Judge:
Z.Oleinikova, 27.02.2011.
V1, - CACIB show, Donetsk, "Cup of Maslakov 2011", Ukraine, judge: Cristian
STEFANESCU (RO), 05.03.2011.
V1, CAC, RCACIB, - CACIB show, Donetsk, "Donbas Spring 2011", Ukraine,
judge: Hans BIERWOLF (A), 06.03.2011.
V1, K×K, Best female black at the Specialized dobermann exhibitions, "Statyi
Oskol", Judge: Ekaterina Mozharova, 12.06.2011.
Exs., at the IDC - 2011, class open, black female, the judge: Helmut
Redtenbacher, 37 entries, Hungary - Fehervarcsurgo Karolyi Castle,
28.2011.
CAC, Best Female, class open at the CAC show in Crimea (Ukraine), judge: Igor
Semenenko, 18.09.2011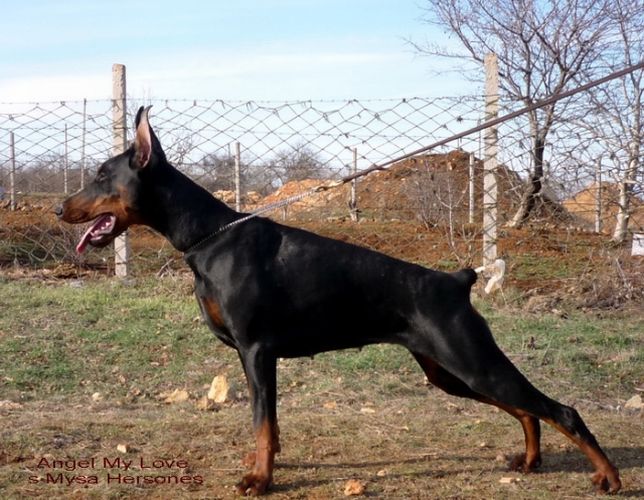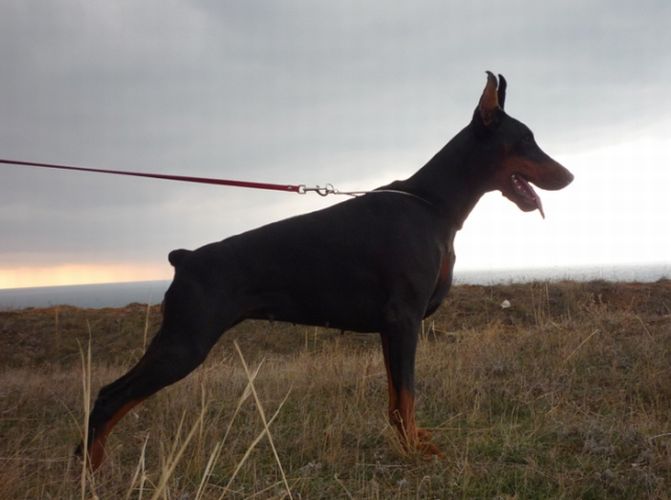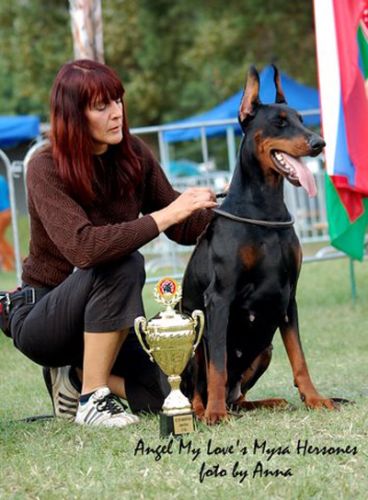 INES DI PERLANERA

MOTHER IS TAHI REME LOTTIE

born on 17.12.2007

UNGARY CHAMPION
UNGARY YOUTH CHAMPION
HJCH
HCH
HPJ & Derby Winner at national Budapest CAC show
HPJ & BOB Budapest CAC show
HPJ & BOB Budapest CAC show
CAC Pápa CAC show
CAC, R.CACIB - Budapest CACIB show 2009
R.CAC. R.CACIB - Budapest CACIB Derby show 2009
V1, CAC - OMSE CAC 2010
National breeding test
BH
ZTP V1B
IPO 1
HD-1
PHTVL/PHPV, PRA, RD, CEA, Katarakta free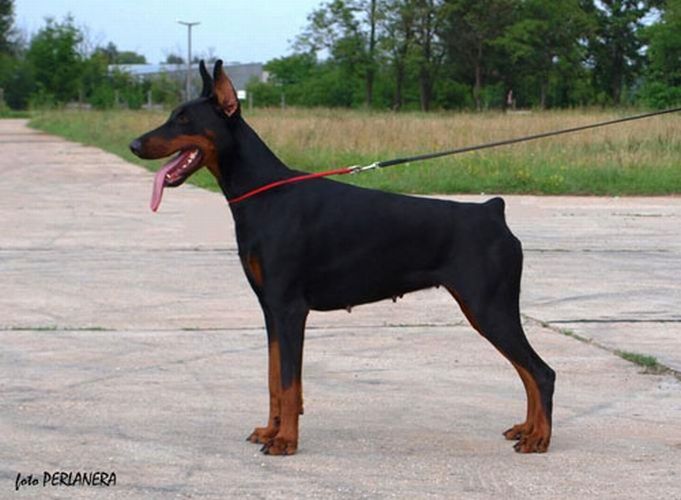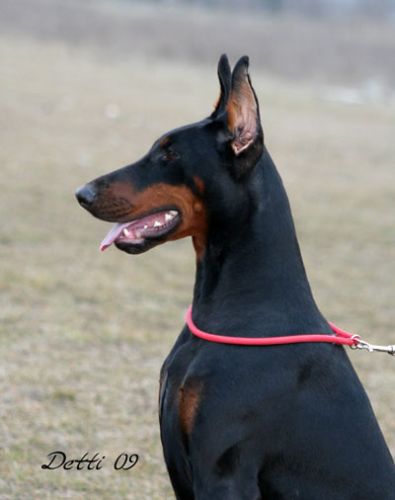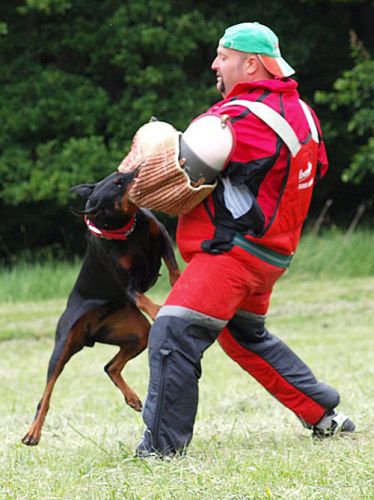 ITALA DI PERLANERA

MOTHER IS TAHI REME LOTTIE

born on 17.12.2007

Szül.: 2007.12.17
CAC
R.CAC
tenyészszemle
vWd mentes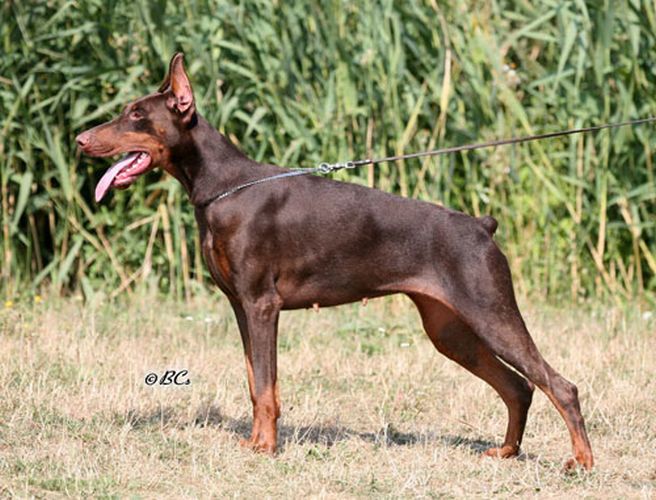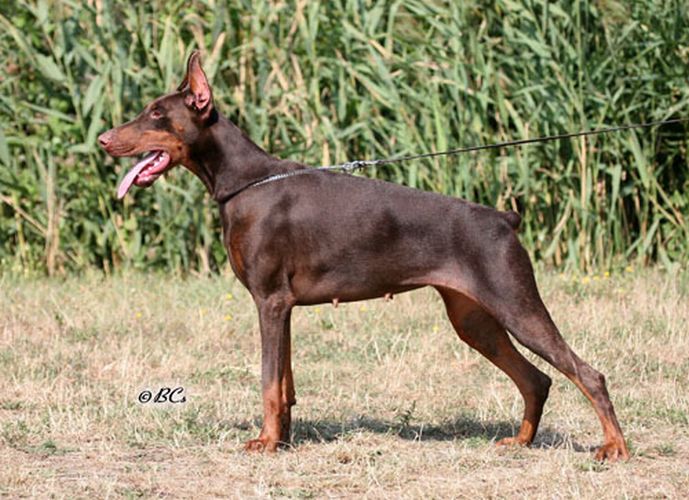 Auris Alexis s Mysa Hersones

CHERESHNYA SLADKAYA MOYA S MYSA HERSONES

born on 02.04.2009

Best brown puppy female at National Ukrainian Dobermann Championship, Kiev,
judge: Revaz Homasuridze (Russia), 24.10.2009.
JCAC at the Special Dobermann Show in Sevastopol - Ukraine, judge: Maciej
KOZBER (PL), 04.05.2010.
CAC at the CAC show, "Zvezdnuy Priboy", Sevastopol, intermedia class, Judge:
Zoya Oleynikova, 12.09.2010.
CAC, BOB at CAC show, Herson, judge: E.Buslav, 24.10.2010!!!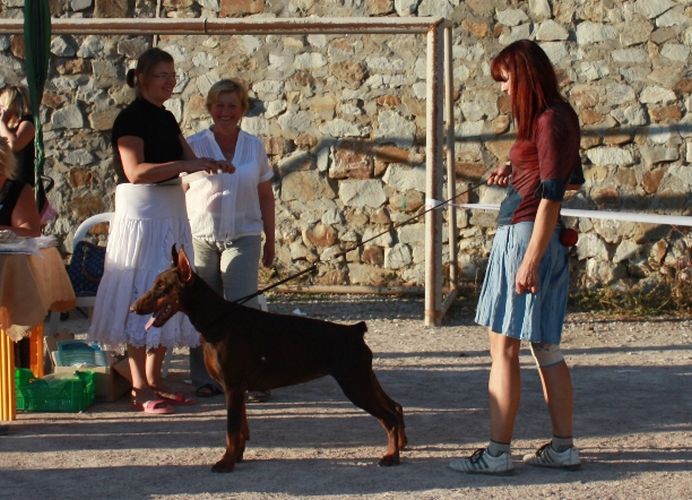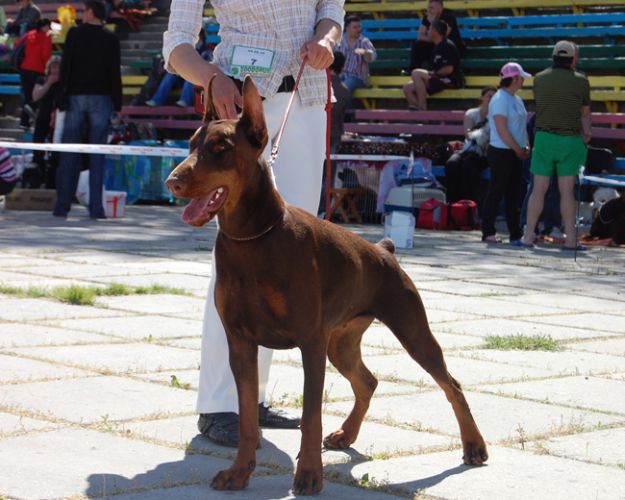 PARADISE KING OF DARKNESS

MOTHER IS GEM'GIVVEEON ROCCA

born on 02.10.2009

Puppy Speciality Winner 2010. Backa Palanka
PUPPY BEST IN SHOW III.
Vice Puppy AIAD Sieger 2010.
Special Puppy Club Winner Slovenija 2010
HUNGARIAN JUNIOR CHAMPION
HD 1 (Germany)
DCM free
PHPV/PPM/CEA/RD/PRA/PLL/CATARACTA free
free from every eyes' diseases
BH
HPO1 (MIGLIOR OBBEDIENZA E MIGLIOR ATTACCO)
AD
ZTP VG 1A, (Rudi Killmaier)
III. HDK Working Championship IPO 1 B and C phase Winner!
HPO 2 ( A: 96, B: 84, C: 94) (27.11.2011)
04.04.2010: Miskolc CACIB Puppy class VP (Bojan Matakovic HR)
18.04.2010. VP1, Puppy Speciality Winner 2010 - II.Dobermann Speciality Show Backa
Palanka - Serbia (Erika Szokol)
02.05.2010. Banska Bystrica VP1, Best Puppy (John Watson)
24.05.2010. HDK Klubkiállítás VP2 (Merete Dalgaard)
04.06.2010. Senec Dog Show VP1, Best Puppy, Puppy BEST IN SHOW III. (Jana
Jankova SK)
12-13.06.2010. AIAD Puppy class Vp2, Vice Puppy AIAD Sieger ( Attilio Polifrone)
27.06.2010. Slovenija Special Dobermann Club Show puppy class VP1, Special Puppy
Club Winner 2010 (Barbara Corsini)
31.07.2010. EDTW 2010 Youth class VG2 ( Nadja Timmermann, Thomas Becht)
21.08.2010. Bratislava Duodanube CACIB youth class V1, CAJC ( Tibor Havelka)
4-6.09.2010. IDC youth class V (Gabriella Ridarcikova)
5.09.2010. Hódmezővásárhely youth class V1, HPJ, BOB ( Harthmann György)
16.10.2010. Komárom CACIB youth class V1, HPJ (Dr Jakkel Tamás)
17.10.2010. Komárom CACIB youth class V1, HPJ ( Friedrike Kappacher (A)
23.01.2011. Trencin CACIB yourh class V1, CAJC ( Priehoda Marián (SK)
18.01.2011. OMSE CAC Intermedier class V1, CAC ( Harthman György) 24.07.2011.
Velka Ida CACIB V1, CAC (Josef Klima)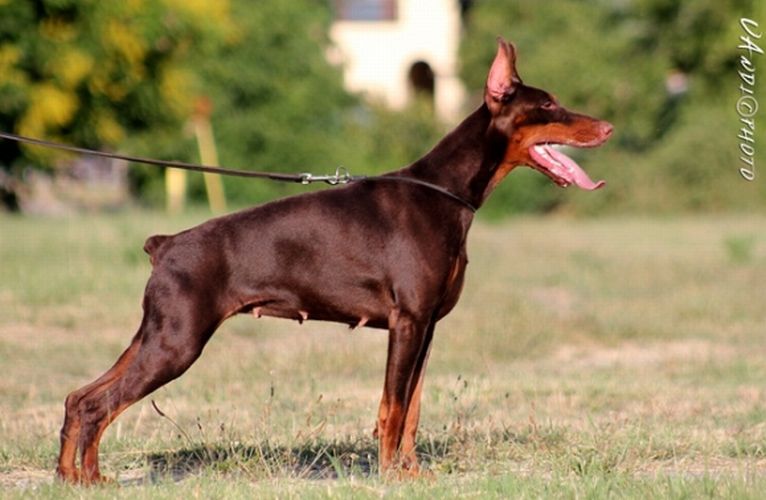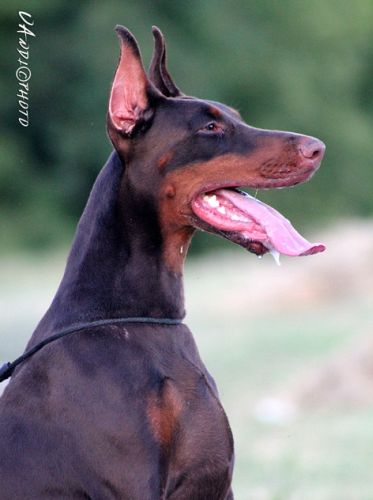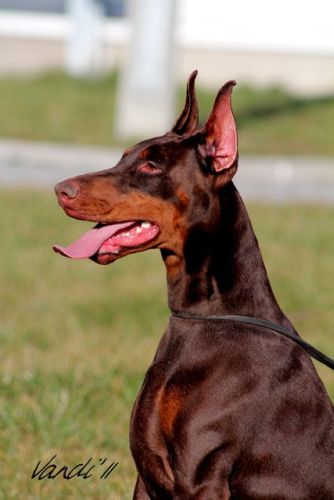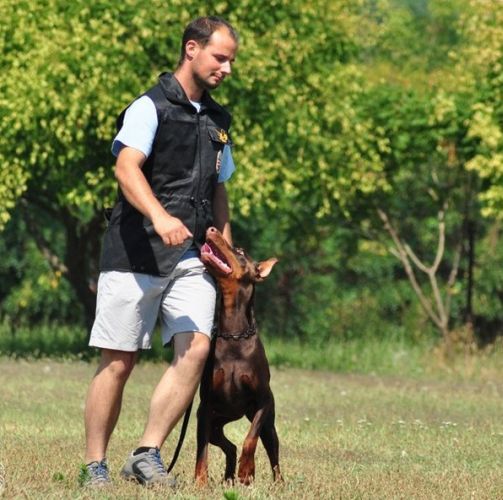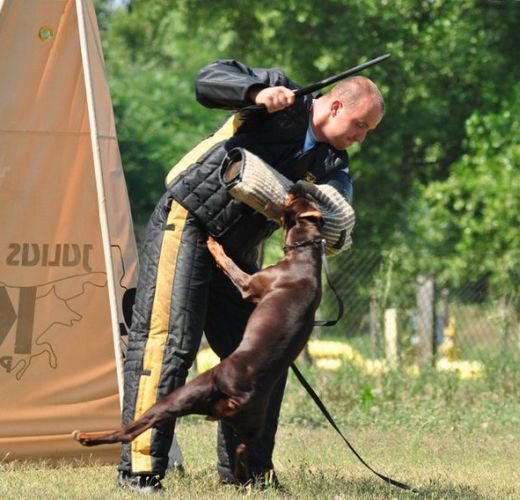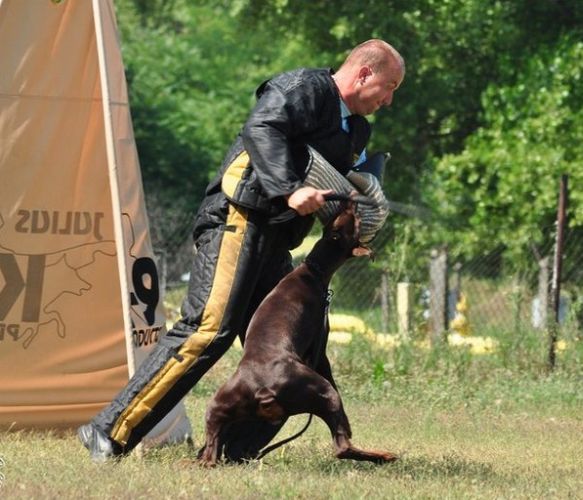 LOREN SOPHIE DEI DUE INTENTI

MOTHER IS LUNE DE MAI DEI DUE INTENTI

born on 20.09.2010

1mp classe juniores interz palermo
1°ECC classe giovani nazionale di Caltanissetta 13 settembre 2011
Miglior giovane e miglior marrone
Loren Sophie dei Due Intenti (CH.Ron del Fiorsilva x Lune de mai dei Due Intenti)
1Ecc.Classe Giovani - Expo Naz. di Caltanissetta 11/09/2011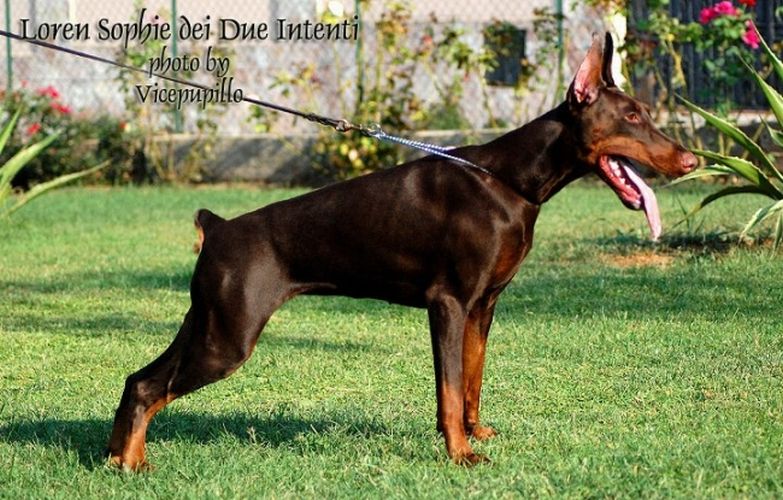 Emily della Sciara

MOTHER IS ZELDA DELLA SCIARA

ztp 1° ecc HD-A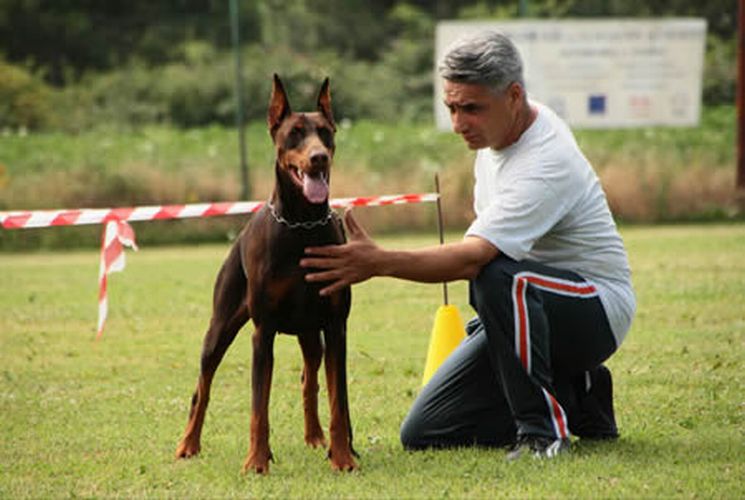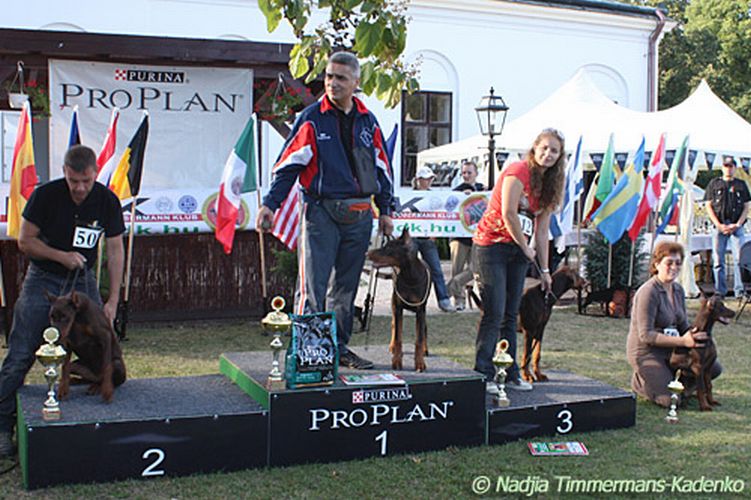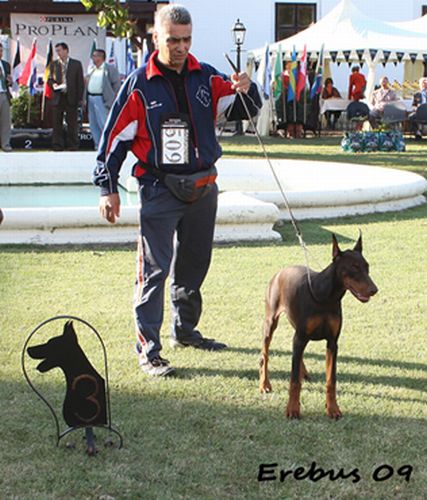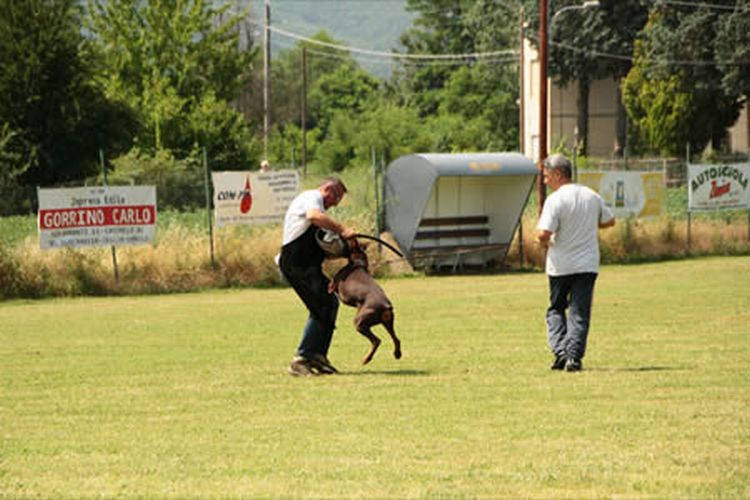 Atlantis Atletika s Mysa Hersones

CHERESHNYA SLADKAYA MOYA S MYSA HERSONES

born on 02.04.2009

Young Champion of Russia,
Champion of Russia, Champion RLFS, Champion RKF,
Winner of Club,
Champion of Belarus,
Champion of Ukraine
Best puppy at show "Garmonia-2009", Moscow, Russia, judge: Vasil'ev O; 01.11.
2009.
2V.P. at show "Stolica", Moscow, Russia, judge: Beata Petkevica, 15.11.2009.
BOB, CAC, Best female, Best junior at CAC-show (RKK) in Moscow, judge: Pero
Bozhinovski, 6.02.2010
BOB, CAC, Best female, Best junior at CAC-show (Lider) in Moscow, judge:
Nikolay Kashirin, 6.02.2010.
JÑÀÑ, Best female junior- CAC-show "Imperiya", Moscow, judge: Ostrovskaya
Ì.G., 13.02.2010.
BOB, CAC, Best female junior at CAC-show in Moscow, judge:Ekaterina
Bauzhes, 28.02.2010.
3 ex. at CACIB-show "Eurasia 2010 - 1", Moscow, judge: Hans WIBLISHAUSER
(DE), 27.03.2010.
R CAC at CACIB-show, Eurasia 2010 - 2, Moscow, judge: Thomas BECHT (DE),
28.03.2010.
CW,Ê×Ê - ÑÀÑ show.
CW,Ê×Ê - XV "SHAMPIONSHIP OF MOSCOW 2010", class intermedia, judge:
Hans WIBLISHAUSER, .28.08.2010.
CW,Ê×Ê - "NATIONAL SHAMPIONSHIP 2010", judge: Tiz Anna, 29.08.2010.
V.G. - IDC 2010, class brown junior, Judge: Gabriela Ridarcikova, (25 present).
2V., res.CAC - at CACIB Moscow - Russia, judge: Boris SHAPIRO (FR),
16.10.2010.
CAC at CACIB Moscow - Russia, judge: Jan Van Rijswiyk (YÀR), 30.10.2010.
1V, CW, Winner of Club, Best female brown, BOB brown at specialized
exhibition, Moscow (Russia), judge: Janiki Steinbockc, 27.11.2010.
V1, CAC, Best female brown at specialized CAC show, Minsk, Judge: Viktoras
Avtusko (litva), 13.02.11.
V1, CAC at CAC show, Minsk, Judge: Irina Azen, 13.02.11.
V1, CAC, BOB at CAC show, Minsk, Judge: Valentin Fedorov (Belorus),
13.02.11.
V1, CW, CAC, Best female, BOB at CAC show, Moskva (Ru), Judge: Pershina
M., 17.04.2011.
V1, CAC, CACIB, Best female at CACIB show, Mariupol (Ukraine), 01.0